Vinyl Siding
Vinyl siding is the most common exterior material in Washington—and with good reason. Offering a beautiful appearance and virtually no upkeep at an affordable price point, this material is widely beloved. The product is available in nearly every color, and as the color goes all the way through the material, it isn't a problem if it gets scratched. There are a variety of styles, widths, shingles, shakes, and other products that vinyl can be made into. It is a very straightforward material to install, making the labor costs lower as compared to other exterior materials. It is the most affordable siding choice offered on the market today.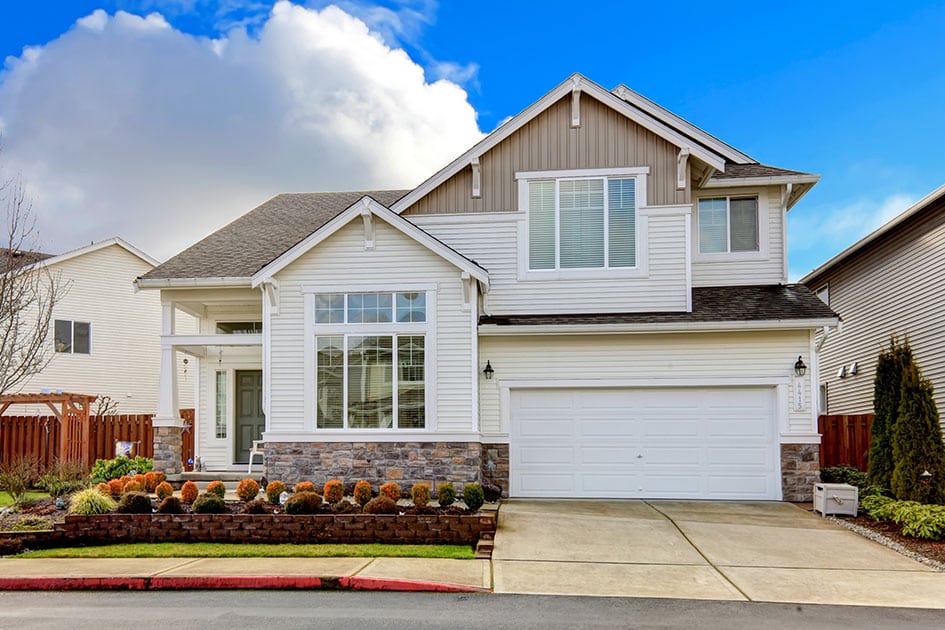 Vinyl siding has become the preferred choice for remodeling, renovation, and new construction. Its malleability allows it to take on the warm and welcoming appearance of natural wood, but its structure allows it to stand up to the elements more effectively. Vinyl siding does not peel, split, or rot. Because its color is present throughout the material, it does not require staining, painting, or scraping. Simply hose down your vinyl siding every once in awhile and it will look beautiful for years.
BENEFITS OF VINYL SIDING
Does not require painting
Easy to clean
Available in a wide variety of tones and colors
Offered in a number of different styles (scallops, lap, fish scales, shakes, and others)
Can be insulated with foam backing for energy efficiency
Extremely long lasting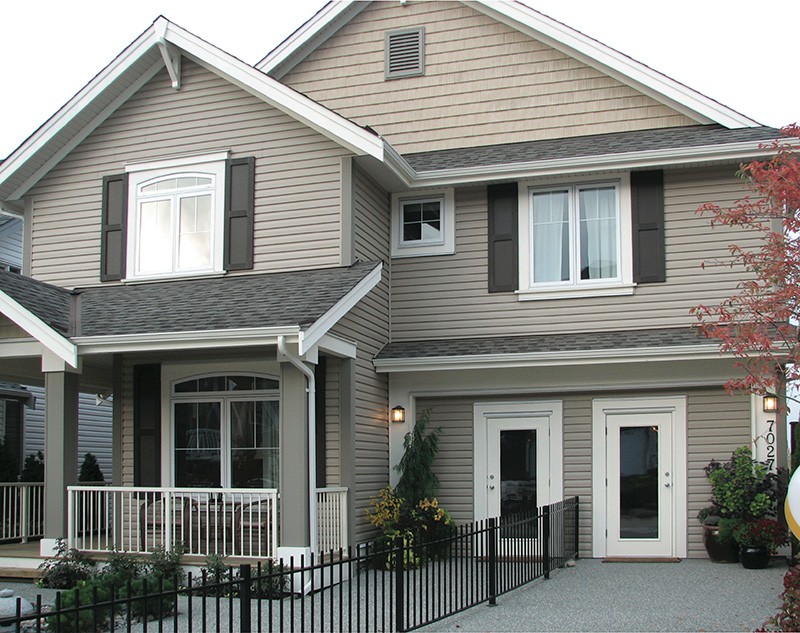 Homeowners love their vinyl siding for its beauty as well as its durability. The material is available in a wide variety of colors and textures, offering complete creative control over the appearance of a home. In years past, vinyl siding has primarily been produced in pastel or earth tones. Currently, however, the material if offered in nearly every shade imaginable. If you want your home to stand out from the rest, bright and saturated vinyl siding is a wonderful option. No matter what your color preference, vinyl siding maintains its depth of hue remarkably well. As is true of any product, vinyl's color will fade over time, but its rate of deterioration is extremely slow as compared to painted wood. As the color runs through the entirely of vinyl siding and does not exist solely as an outer later, there is more pigment to boost appearance. Additionally, when vinyl siding is scratched, it is nearly invisible as the color beneath the scratch matches the color on the outer surface.
HISTORY OF VINYL SIDING
First introduced into the building market in the mid-1900s, vinyl siding was touted as a replacement for aluminum. A new material at the time, it was not of the highest quality. As new manufacturing technology was invented in the 1970s, however, the material underwent a remarkable industrial transformation. Vinyl was now able to be produced more quickly and efficiently and also became more resistant to impact. Manufacturers expanded their color palettes and consumers began to gravitate towards the material. Since this time, the popularity of vinyl siding has steadily increased, with low-maintenance durability as its highest accolade. It only began to see competition when fiber cement came onto the market.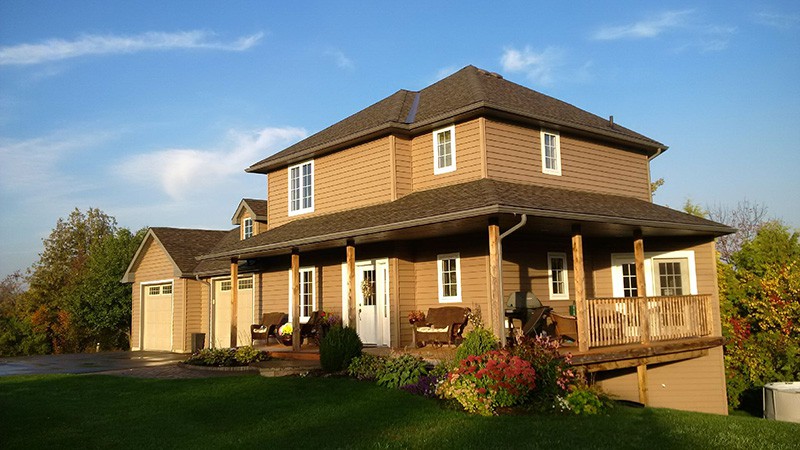 Currently, vinyl siding is regularly used all throughout the United States. With a now-saturated market, the quality of vinyl siding can vary greatly. Cheaper grade siding is generally around 0.3 mils, with high-grade material running roughly double that, around 0.6 mils. The quality of the material depends on the base products and processes used by the individual manufacturer. Many manufacturers will offer varying thicknesses of vinyl siding, appealing to a wider market. Thicker varieties often have greater rigidity and tend to have a longer lifespan than their thinner counterparts. Thicker varieties are also most resistant to vinyl's most common issue: the tendency to crack and break at very low temperatures or when forcefully struck by a hard object. As Seattle and its surrounding areas have fairly warm weather in all seasons, this cracking is rarely a concern for homeowners in the region.
The chemical formulation of vinyl varies from producer to producer, and its exact makeup can greatly affect its longevity. One of the most important factors to consider when selecting a vinyl siding is its UV coating. A layer of protection is applied to the outer surface of the product, this coating filters out harmful UV rays that can cause aesthetic and structural damage to the material. In general, the higher a vinyl's grade, the more resistant that vinyl will be to fading.
TYPES OF VINYL SIDING
The exterior materials market offers a wide variety of vinyl products. Some of the most popular choices include fake stone vinyl siding, fake brick vinyl siding, vinyl siding board, fake wood vinyl siding, or certified traditional vinyl siding. Cutting edge manufacturing technology allows producers to craft materials that emulate any manner of home exterior with strikingly accurate replication. Vinyl siding is also a highly cost-effective option when compared with its alternatives, such as cedar or fiber cement siding. As a material in general, vinyl does not peel or rot, and it does not have to be painted. As an artificial product, there is, ostensibly, no limit to the colors in which you might panel your house. When purchasing materials for a vinyl exterior, it is important to consider the thickness of the products. A thicker product means a more durable and longer lasting product.
One of the many wonderful things about vinyl siding is its aesthetic appeal. Even if your home is looking tired and its paint job is thirty years old, vinyl siding can spruce it up in one fell swoop. Easily applied over top of stone and brick, as well and concrete and wood, vinyl siding can give your home a whole new look in no time. With Seattle Siding, the installation of your new vinyl exterior can go from start to finish in a remarkably short period of time. This will significantly increase the value of your home if and when you decide to put it up for sale. Vinyl siding is modern, stylish, and energy efficient, renewing the feeling of novelty and comfort that first attracted you to your home.
INSULATED VINYL SIDING
In the last few years, vinyl manufacturers began to produce and market an insulated iteration of the material. Created with a foam backing board, these products provide the low-maintenance and durability of vinyl, along with the thermal advantages of insulation. This combination is capable of increasing the insulation of your outside walls by over 30%. Additionally, the added layer of foam strengthens the material through supporting the vinyl panel. It also significantly reduces the amount of outside noise that can be heard within the walls of your home. The initial cost of this upgraded material is slightly more expensive, but the value and comfort, as well as energy savings, that it can provide long term make it well worth the money.
With an investment in insulated vinyl siding, you receive:
All benefits of regular vinyl siding
Increased insulation and subsequent savings on energy
A stronger material than regular vinyl siding
Less outside noise heard within your home
VINYL SIDING INSTALLATION
Vinyl siding is likely the perfect choice for your home. It is low maintenance and highly durable. Sometimes it is tricky to install, so we recommend that you seek out a highly qualified contractor to put up your new siding. We here at Seattle Siding are experts in the field. Work with us and you can feel confident that your brand new exterior vinyl siding will be perfectly installed. Professional siding installation is the best way to bring your house to a new level of aesthetic and structural appeal.
Seattle | Tacoma | Bellevue | Kent | Kirkland | Renton | Sammamish
Everett | Bonney Lake | Federal Way | Marysville | Burien | Lynnwood
Auburn | Bothell | Issaquah | Puyallup | Des Moines | Lakewood
Bainbridge Island | Bremerton | Kenmore | Redmond | Edmonds | Shoreline
Call to request a free estimate: 206-201-0999
Or E-mail: info@SidingSeattle.com